Say Goodbye Dark Spots and Dry Skin.. Forever!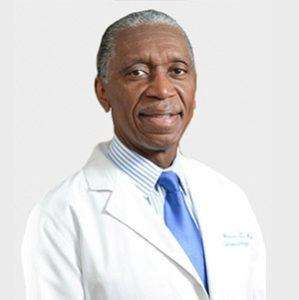 Hi, I'm Dr. Seymour Weaver - s board-certified dermatologist with over 37 years of private practice experience caring for more than 100,000 patients over the years.

If you're a woman of color and experiencing some discoloration (and want softer, smoother skin too!), then you should try a bottle of my new product Melajuve.

See why my patients love this product.. and you will too...
28 of the Most Powerful Discoloration-Fixing, Anti-Aging Ingredients on the Market... For Women of Color
The biggest difference is with darker skin, there's more melanin and pigment than lighter skin.

While melanin can help protect the skin from sun damage and skin cancers.. but the tradeoff is an overproduction of melanin. That leads to skin discoloration.

So I've created a product that addresses these problems with 28 powerful ingredients that work perfectly together.

Plus, there are so many anti-oxidant and anti-inflammatory ingredients as well that'll have your skin looking younger and feeling smoother.

Take a look what's inside each bottle...
Arbutin
A hydroquinone-derivative that lightens and whitens the skin by inhibiting the formation of melanin in the skin while protecting the skin against damage caused by free radicals
Azelaic Acid
A powerful antioxidant and skin lightener. Reduces the skin's melanin production by inhibiting tyrosinase and suppressing the proliferation of abnormal melanin producing cells. Because of it's anti-inflammatory properties, it also helps to fade red marks and discolorations resulting from post-inflammatory hyperpigmentation.
Lactic Acid:
An alpha-hydroxy acid that gently exfoliates away dead skin cells, helping to normalize hyperkeratinization, increase epidermal thickness and dermal glycosaminoglycan content, for visibly smoother and more radiant skin.
Multifruit ® BSC Extract:
A synergistic blend of lactic, glycolic, citric, malic and tartaric fruit acids that help renew and regenerate skin cells while firming, exfoliating and soothing the skin
Bilberry Extract:
Contains anthocyanosides and Vitamin C that help skin fight hyperpigmentation
while it's strong antioxidant properties help prevent and reverse damaged cells caused by free radical damage.
Sugar Cane Extract
Natural source of glycolic acid that helps exfoliate the skin by removing
dead skin cells, dirt and oil while decreasing pore size and encourage new cell turnover.
Sugar Maple Extract:
Functions as a natural alpha hydroxy acid to minimize and repair cell damage
caused by free radical damage.
Orange Fruit Extract:
Concentration of Vitamin C work as an antioxidant to protect and repair
skin from UV radiation while bringing astringent and anti-inflammatory properties.
Lemon Extract:
A natural antioxidant and skin brightener rich in fruit acids and Vitamin C that gently exfoliate the skin and even overall skin tone and health.
Licorice Extract:
Potent plant extract helps inhibit tyrosinase activity to improve skin discoloration and
hyperpigmentation , effectively evening skin tone for a brighter complexion. Also functions as an anti-inflammatory and anti-irritant to help reduce the redness and irritation associated with various ailments like rosacea, psoriasis and acne.
Ascorbyl Glucoside:
An incredibly stable form of water-soluble Vitamin C that exhibits high antioxidant activity, aids in the synthesis of collagen while inhibiting the formation of melanin and effectively protect and repairs the skin from free radical damage.
Ascorbyl Palmitate:
A stable, lipid-soluble form of Vitamin C that works as a powerful antioxidant to protect the skin from free radical damage while encouraging collagen production.
Ferulic Acid:
A plant-based antioxidant with sun protective benefits. It enhances the stability of vitamin E, is shown to have anti-inflammatory effects, and most importantly, helps inhibit UV-induced melanogenesis (pigmentation caused by the sun)
Tetrahydrodiferuloylmethane:
Skin lightening ingredient and potent antioxidant derived from turmeric that inhibits
tyrosinase, blocking the synthesis of melanin in the skin.
Dipotassium Glycyrrhizinate:
Also known as licorice root, this potent plant extract helps inhibit tyrosinase activity to
improve skin discoloration and hyperpigmentation , effectively evening skin tone for a brighter complexion. Also functions
as an anti-inflammatory and anti-irritant to help reduce the redness and irritation associated with various ailments like rosacea, psoriasis and acne.
Emblica Fruit Extract:
A natural antioxidant and anti-inflammatory that naturally brightens the skin, inhibits melanin production to even out skin tone and defy the effects of aging.
Sodium Hyaluronate (Hyaluronic Acid):
Special combination of high- and low-weight hyaluronic acids that expand once
in the skin to provide excellent, long-lasting hydration. A glycosaminoglycan capable of binding 1,800 times it's weight
in water, when applied to the skin it forms a water-binding barrier allowing for increased moisture retention in the skin's
intracellular matrix
Niacinamide (Vitamin B3):
A potent cell-communicating ingredient that helps improve skin's elasticity, enhances barrier
function, and treats uneven skin tone by addressing red marks and post-inflammatory hyperpigmentation.
Rutin:
Bioflavonoid that functions as a strong antioxidant to stabilize free radical damage. Works synergistically with Vitamin C to help stabilize it while intensifying it's activity. Also works in the skin to reduce inflammation and help strengthen capiilaries.
Ubiquinone (CoQ10):
Lipid-soluble antioxidant responsible for cell protection, stimulating healthy collagen production, reducing UV damage, and reducing the appearance of wrinkles
Resveratrol:
Natural component found in grapes increases the lifespan of skin cells, strengthens and firms the dermis to improve wrinkle and fine line depth, has significant anti-inflammatory properties, while activating cellular renewal to repair
damage caused by aging and environmental factors.
Green Tea Leaf Extract:
A potent antioxidant with powerful anti-inflammatory benefits that helps
prevent collagen breakdown and reduce UV damage.
Beta Carotene:
Wonderful antioxidant that helps protect skin from free radical damage with helping to reduce effects of sun damage.
Lecithin:
A skin softening and soothing emollient that deeply moisturizes the skin. It has the ability to deeply penetrate the
skin to carry substances directly to the cells and assist the skin in absorbing other properties as well
Witch Hazel Extract:
A natural antioxidant and anti-inflammatory agent that helps treat acne and
blemishes with it's astringent properties while being extremely gentle and non-drying to the skin.
Linolenic Acid:
Fatty acid that replenished the skin's intercellular matrix while functioning as a cell-communicator to instruct skin cells how to properly function while helping to reduce inflammation.
Linoleic Acid:
A natural NMF and essential fatty acid, linoleic acid can penetrate the skin's barrier to help bring other ingredients further into the skin while helping to repair any compromised areas in the barrier. Also functions as antioxidant,
anti-inflammatory and healing support to soften the skin and keep it supple and youthful.
Tocopheryl Acetate (Vitamin E):
A powerful, lipid-soluble antioxidant superstar that protects the epidermis for UV radiation
and damage, prevents cell membrane peroxidation, while reducing transepidermal water loss which leads to improved skin
barrier function
Try It FREE For 30 Days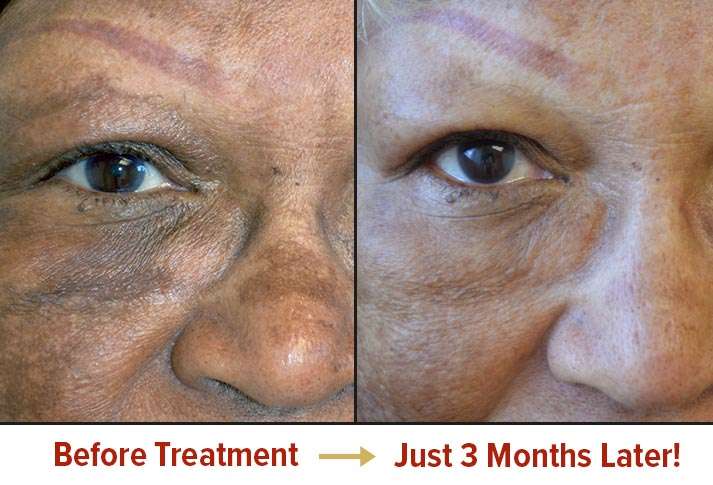 No Risk
If, after 30 days you don't see (and feel) a difference in your skin - you'll get a 100% refund.. no questions asked.